USS SULACO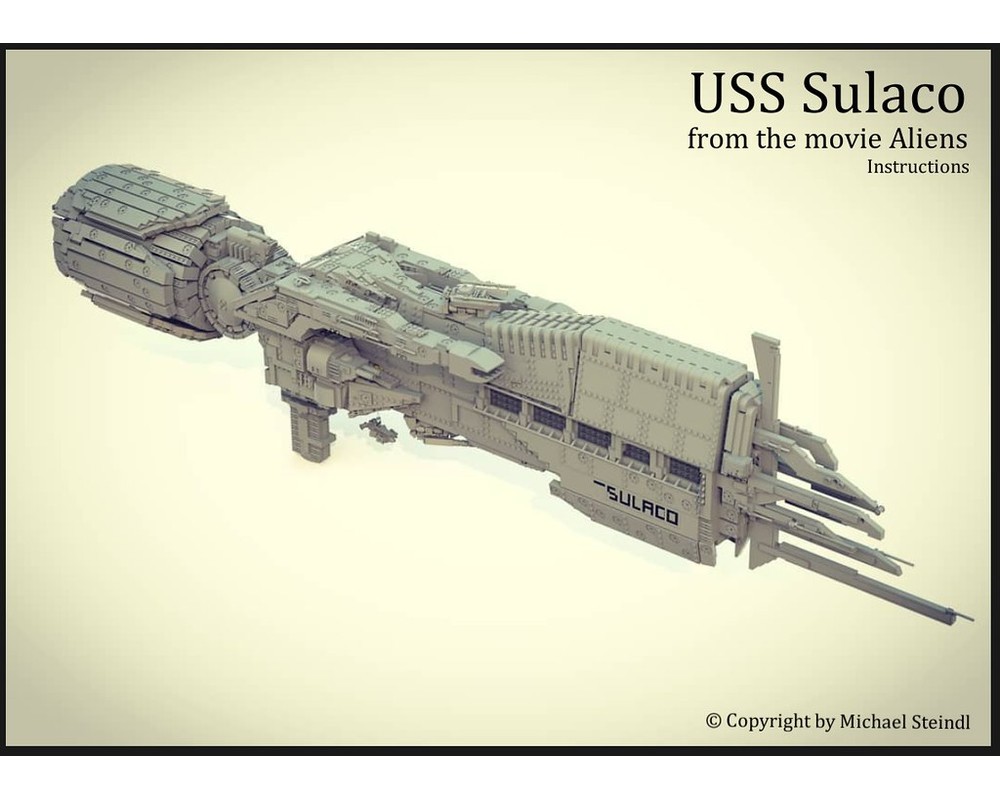 No one can hear you scream in space....
the second part of a good movie
A long journey is on this ship for myself... Since i saw the movie i wanted to built this beauty (o.k. that's years back...)! The start wasn't bad - i built the round middle section, which should be also my scale. I searched for the blueprint. Than i layed over a grid to meassure out the proportions - and let'S go (i thought...) But like every big project this ship has some difficult sections in it, where i often started thinking how can i do this or that.
The most headscratching part was the big round engine with it's for cuts. I wanted to do it with nearly any gaps. So that was the part i need 2 years for the right solution...! The rest of the ship was done in LDD in 2-3 months and the building itself needed 3-4 weeks.
parts: 9571 - ( i thought i could run the 10.000 mark, but sh.. on )
 length: 137cm = 170studs
 height: 39cm
 wide: 19cm
 weight: i really don't know but maybe 5-6kg - it is heavy!
If you like to built this moc and have the file of send me a mail to: *
[email protected]
*
Update  28.11.2019:
If you want to buy this as an hole set with parts it's possible via
www.project-moc.com
- a brandnew brickalternate with excellent quality parts. There is no presale anymore and all mocs on the site are available from now! so look here for a version in grey:
https://project-moc.com/shop/mocs/moc-uss-sulaco/
Already have some of the parts? Use the
Build this MOC
page to only show the parts you are missing.
Waiting for Inventory to load
Building Instructions For Sale
This is a Premium MOC, and the instructions to build it are being sold by the designer (Mihe Stonee) for €25.00
You will receive building instructions of type 3D File - LEGO Digital Designer LXF from the designer once you have organised payment with them.
Use LEGO Digital Designer to open these files and generate step by step building instructions.