German class 01/Baureihe 01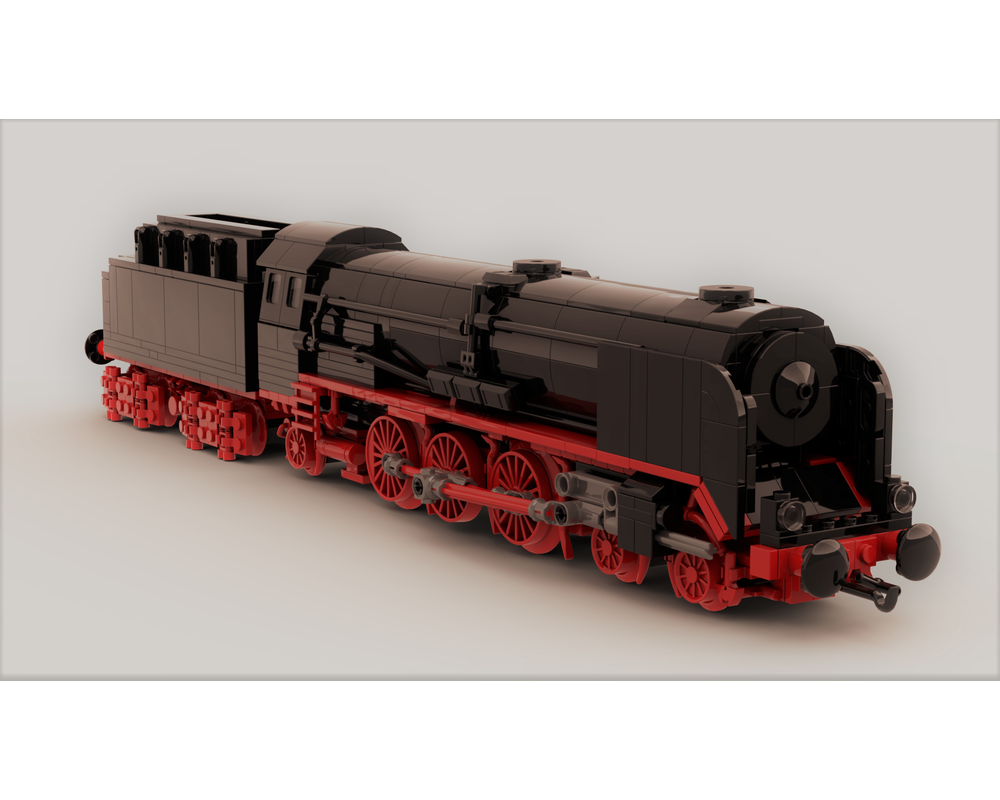 Nach etwa 30 Stunden Bauzeit kann ich euch hier nun meine deutsche Baureihe 01 der zweiten Epoche präsentieren.
Nachdem ich bisher nur etwas simplerer, selbst kreierte Dampflokomotiven mit weit aus wenigeren Details gebaut hatte, versuchte ich mich nun an einem reellen Vorbild mit mehr Details; der legendären Br 01. 
Besondere Herausforderungen hierbei war zum einen, wie fast bei allen LEGO Dampfloks, die Fahrtüchtigkeit in den Kurven. Bis auf S Kurven und Weichen mit S Kurven Profil kann die Lokomotive durch Kurven fahren. Zum anderen den Kompromiss zwischen Detailtreue und Stabilität, besonders im Fahrwerksbereich und an den Kuppelstangen. Eine weitere Schwierigkeit war, man mag es kaum glauben, das Dach. Nach vielen versuchen mit SNOT Technik, habe ich mich doch für eine sehr einfache Lösung mit Slopes und Curved Slopes entschieden. Gleiches gilt für die markanten WIndleitbleche der Br 01 die ich dann auch ganz simpel mit Tiles gebaut habe. Wie bei allen Dampflokomotiven aus LEGO sind natürlich auch hier wieder einige teure Teile verbaut.
Insgesamt habe ich 990 Teile verbaut, 196 verschiedene, darunter auch Teile die von Lego in der Farbe leider nicht existieren. Bleibt also nur übrig Teile selbst zu färben oder Teile von anderen Herstellern zu verwenden.
Anleitung gibt's natürlich kostenlos (:
After 30 hours of buildtime i can present you my german class 01 of the second epoch.
After I designed some simplier, fictional steam locomotives with less details, I tried to build a real locomotive with much more Details; the legendary Br 01.
A big challenge was, like every Lego steam locomotive, the driving airworthiness in curves. Excepting s curves and switches with s curve profile the model can pass curves. Another Challenge was to find the right compromise between details and stability, particulaly in the area of the wheels and the dome rod. Another hard thing was to build the roof. After I tried some SNOT techniques I decided to build it very easily with some slopes and curved slopes. Same problem on the wind buffles, which I designed with tiles. Like every Lego locomotive there are some expensive parts.
In total the model consists of 990 parts, 196 different, sadly some parts which aren't available in the right color. We have to use self painted parts or parts from other manufactuerer.
Of course the instructions are for free (:
Already have some of the parts? Use the
Build this MOC
page to only show the parts you are missing.
Waiting for Inventory to load