MOC - McLaren P1 hypercar 1:8 - RC version only -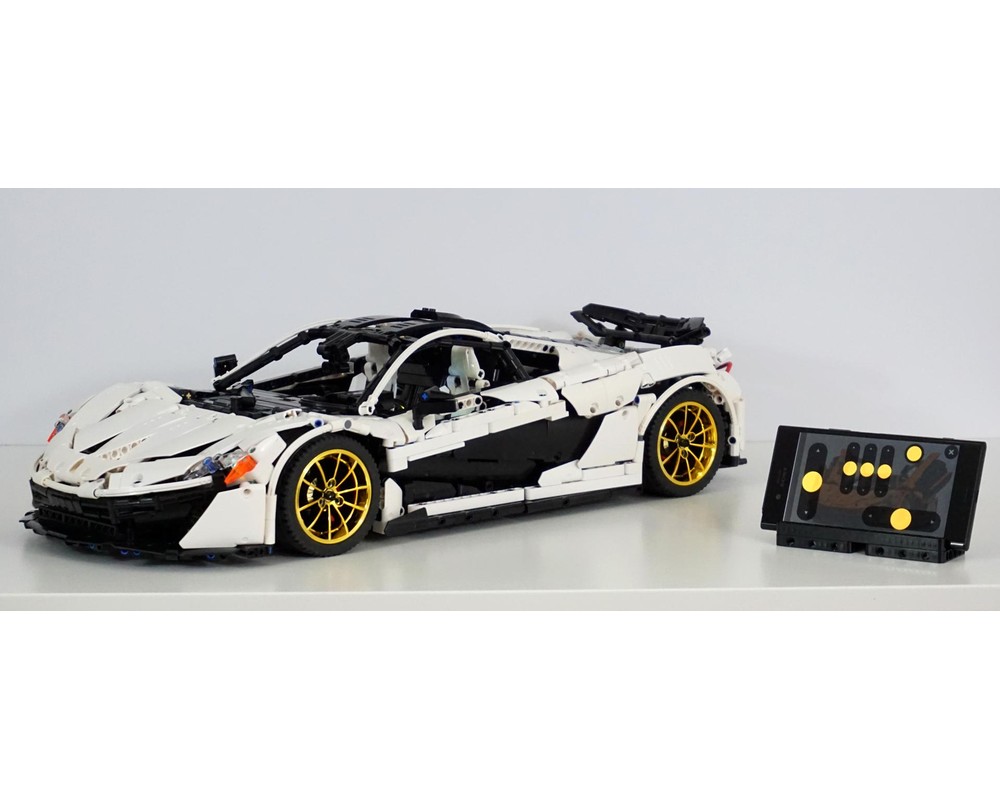 Specs:


Length: 73 studs (58cm); width: 30 studs (24cm); height: 18 studs (14,5cm)

Openable bonnet, removable engine cover

Parts count: 3.200 pcs.; Technic panels count: 132 pcs.

Wheels are from set #42056, chromed gold



Bodywork is now possible in white / orange / black from original Lego parts only .




If you want to build it in another color, export the partslist and simply swap the white parts into the other.
RC chassis
:


–                    7 separate detachable modules
–                    rear wheel drive
–                    3 motorization options (only full version shown here and in the instructions!):

                      2xL / 2xXL / 2xL+2xXL motors possible  Downgrade tutorial here!
–                    working fake mini V8
–                    steering / working steering wheel / airbrake - coupled to servo motor
–                    independent suspension on all wheels
–                    adjustable suspension height - 1x L motor
–                    adjustable rear spoiler - 2x M motor
–                    airbrake activator (manual)
–                    butterfly doors - 1x L motor
–                    screenwiper = door selector (manual)
–                    2x pairs LED lights : front lights + driver´s display
–                    controlled by 2 x SBricks
–                    powered by 2 x LiPo batteries or 2x BuWizz
SBrick/ BuWizz are third party elements, not shown in the inventory.
https://www.sbrick.com/
https://buwizz.com/

#6797 exhaust alternatives here
2x 13L #78c13 ribbed hoses (10-10.5cm) - the right color should be flat silver
2x 4459 high friction pins not mandatory
2x 4274 in blue on windshield wiper can be replaced with LBG

Compare this MOC to the new Porsche set #42096 of which nearly 1.100 parts are common with this MOC, especially the new panels #18944 and #24119 in white.
In the video the presentation of the RC version starts at 2:28:

Already have some of the parts? Use the
Build this MOC
page to only show the parts you are missing.
Waiting for Inventory to load
Building Instructions For Sale
This is a Premium MOC, and the instructions to build it are being sold by the designer (brunojj1) for €25.00
You will receive building instructions of type PDF - Computer Images from the designer once you have organised payment with them.
Help Guide - BI File Types