1967 Eleanor Mustang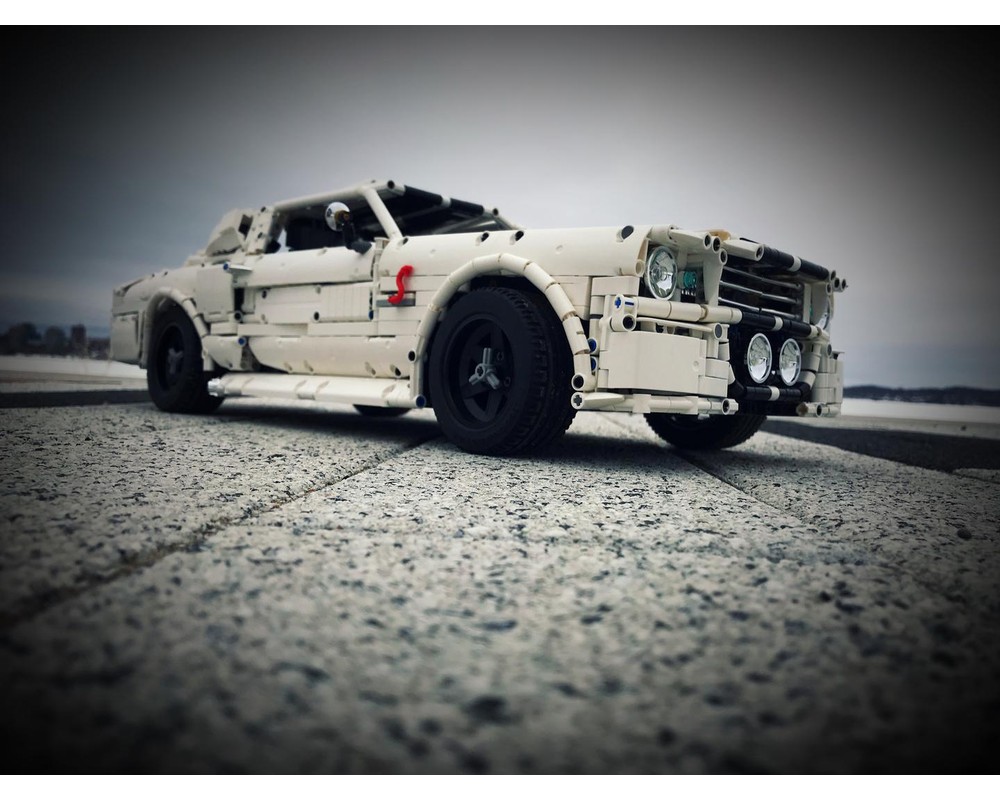 The classic 1967 Ford Eleanor GT500 was a fearsome beast in its day, with a 428 cubic inch big block rippling the pavement courtesy of an astounding 355 horsepower. It's also the car made famous as "Eleanor,"  Steve McQueen's awesome ride in the original movie Gone In Sixty Seconds.
1967 Eleanor Mustang- let's drive
by
lachlan cameron
, on Flickr
With so much heritage to this classic car, I knew this build had to reflect that hardcore stance and styling everyone grew to love.
1967 Eleanor Mustang- interior
by
lachlan cameron
, on Flickr
In an attempt to stay true to the mechanics and design, I began with the classic live axle rear suspension and an inboard suspension style in the front with Ackerman steering and torsion bar.
The car also sports front and rear headlights, motorized hood and trunk, 2 XL motors for drive, 1 servo motor for steering, 1 or 2 Buwizz batteries (or 1 or 2 lipo batteries and 1 or 2 Sbricks with 1 or 2 extra extension cables ** if you are building with 2 sbrick you will have to place them in the back window as they will not fit in the trunk**) a chrome V8 engine block with gold pistons, working fan and blower, snap back doors. 
1967 Eleanor Mustang- Exclusive 2
 by 
lachlan cameron
, on Flickr
There are 2 different gear ratios for the car to choose from, 1:1 and 1:1.6.
1:1 is better when using 1 battery.
1967 Eleanor Mustang
by
lachlan cameron
, on Flickr
Please note: The batteries are not in the parts list - you must buy 1 or 2 buwizz batteries separately @ - 
https://buwizz.com/?ref=15
67' Mustang Seats
by
lachlan cameron
, on Flickr
I bought all my chrome parts from Bubul bricklink store - great prices and selection!
https://store.bricklink.com/Bubul


Back end blues - chrome rims FTW
by
lachlan cameron
, on Flickr
If you would like to use Porsche Rims for the car, you can use 12x Belt Pulleys PN 4185 (3 per wheel) and 12x 3L pins. The rear wheels have the 3 pulleys on the inside of the wheel connected to the hub. The front have 2 pulleys in the inside, and 1 pulley on the outside to hold the wheel in. The 42000 wheels perform better than the Porsche rim setup. 
Flickr Album:
https://flic.kr/s/aHsmegVsEW
Instagram: 
https://www.instagram.com/loxlego
Already have some of the parts? Use the
Build this MOC
page to only show the parts you are missing.
Waiting for Inventory to load
Building Instructions For Sale
This is a Premium MOC, and the instructions to build it are being sold by the designer (Loxlego) for £17.00
You will receive building instructions of type PDF - Photo Sequence from the designer once you have organised payment with them.
Help Guide - BI File Types