EDIT MODE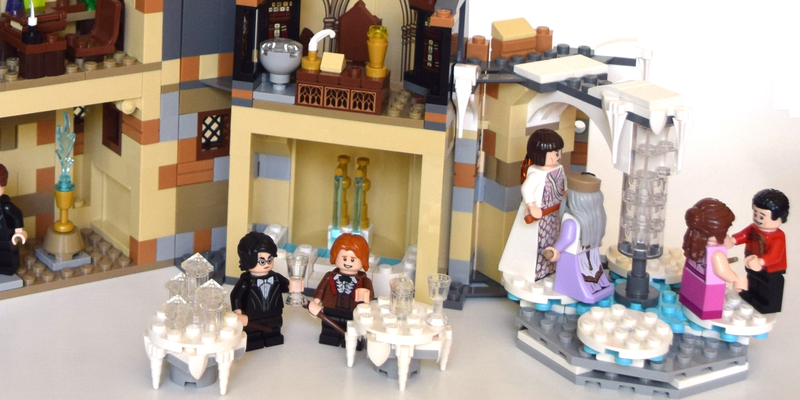 Harry Potter is one of the few themes my wife gets excited to see. She's a much bigger fan than me and I use her love of the material to get my hands on some LEGO. That being said, I've never been disappointed by a LEGO Harry Potter set, they always have great playability and are nice builds. Hopefully the Clock Tower won't break that streak.
Contents:
Background
Harry Potter was one of the first licensed properties LEGO acquired, back in 2001. Early sets were quite inventive when compared to other themes at the time. As the movies progressed the sets grew bigger and more complex. We've had numerous iterations of Hogwarts, Hogwarts Express, Hagrid's Hut, and the Knight Bus. I always felt LEGO missed the chance to create a modular type experience, release different classrooms that connect and allow it's customers to recreate Hogwarts as they see fit. Then, after many quiet years, and signs that the theme was retired for good, Fantastic Beasts movies arrived. LEGO re-acquired the license and we were given Harry Potter Lego V2.0. We still got a Hogwarts, Hogwarts Express, Hagrid's Hut, and the Knight Bus, but this time we got something more special. Smaller sections of the Castle that could be connected to create a bigger scene. The Great Hall initially seemed a but disappointing, but that was before the realisation that it wasn't suppose to be the whole castle. We would get far more to add to it. Then the Ultimate Hogwarts and blew everyone away (See Simon's review of it here).
The second wave of sets added a few scenes previously not LEGO-fied, and they continued with the modular aspect. The Clock Tower was immortalized in the third movie, Prisoner of Azkaban, which featured Time as an important plot device. But this set actually depicts the Yule Ball scene in the fourth movie Goblet of Fire.
(Seriously, if you haven't already read it read Simon's review of Hogwarts Castle here, it's long but absolutely worth it).
The Set
Transport fans of Harry Potter™ aged 9 and over to a magical world inside the LEGO® Harry Potter 75948 Hogwarts™ Clock Tower set. With 8 minifigures and iconic locations from Harry Potter and the Prisoner of Azkaban™ and Harry Potter and the Goblet of Fire™, kids will be immersed in a world of imaginative play. Whether visiting Dumbledore's office or attending a Defense Against the Dark Arts lesson, traveling through time by resetting the tower clock or unwinding at the Yule Ball by operating the 'dance' function… once they enter the Hogwarts Clock Tower, they'll never want to leave!
The Box


The box measures 350 x 375 x 89 mm. Inside are 6 bags numbered 1 to 6, 2 loose parts (89523), instructions and 2 sticker sheets.
The Instructions
The instructions measures 195 x 260 mm. With 175 pages and 217 building steps. I found an error in the instructions. Page 52 Step 76 says you need 1x 6541 but doesn't show you where to put it. Then in step 77 it tells you to put an axle pin in it and shows you where to place it. Seems like that 6541 was suppose to be moved to the next step but somehow it got missed. Instruction errors aren't unheard of but I've never spotted one before.
The pdf can be downloaded here.
The Parts
The set contains 926 parts and 38 spare parts, in 34 different colors, and 35 different categories, with a total of 279 unique parts/color combinations
Lots of Tan, Light Bluish Gray, and Dark Bluish Gray which are the main color palette of the Harry Potter sets, not much of that controversial Sand Green though! And no surprises which categories are most prevalent.
Main colors are:
Main categories are:
New Parts:- Mostly Minifig Parts, as usual.
44375bpr0006 - Dish 6 x 6 Inverted (Radar) [Solid Studs] with Clock print.
3004pr00149 - Brick 1 x 2 with Dress, Ruffles, Dark Pink Ribbon print.
36036pr0016 - Hips and Legs Under Dress/Robe with White Dress, Dark Tan/Reddish Brown Underdress print.
98560pr0001 - Slope 75° 2 x 2 x 3 - Solid Studs with White Dress, Lavender Pattern print.
3626cpr2906 - Minifig Head Ron Weasley, Reddish Brown Eyebrows, Worried, Oops.
3626cpr2911 - Minifig Head Madame Maxime, Female Half Closed (Tired?) Eyes, Wrinkles, Red Peach Lips.
973pr4795c01 - Minifig Torso White Dress, Dark Tan/Reddish Brown Collar.
973pr4734c01 - Minifig Torso Robe with Lavender Print.
973pr4726c01 - Minifig Torso White Tassel, Red Collar, Reddish Brown Tunic, Dark Green Bow Tie.
973pr4729c01 - Minifig Torso Red Fur Coat, Reddish Brown Straps, Belt, Buckle.
973pr4733c01 - Minifig Torso Light Bluish Grey Dress, Flowers on Collar.
973pr4725c01 - Minifig Torso Female Bright Pink Dress, Dark Pink Ribbon with Bow.
973pr4723c01 - Minifig Torso Tuxedo, White Shirt, White Bow Tie.
973pr4735c01 - Minifig Torso Tuxedo, White Shirt, Black Bow Tie.
Parts in new colors: New cogs, new skirts and new hair, all show how the Harry Potter sets are fitting in with the newer LEGO elements (interstingly they went with Cole's hair (from Ninjago sets) for Harry instead of parts 36762 or 87991 which are usually the standard Harry hair).
Parts in rare colors:
This set comes with 8 minifigs. Harry Potter, Hermione Granger, Ron Weasley, Albus Dumbledore, Cedric Diggory, Fleur Delacour, Madame Maxime, and Victor Krum.
The Build
Bag 1: Straight into the action. We open on the dancefloor of the Yule Ball. It has a small wall section for support and utilizes the new cogs 35442 and 35443 well to create a smooth rotation. I do wish they designed it so the rig could be rotated easier, pushing it round using the edges seems a poor choice and exposed how delicate the whole structure is. Also in Bag 1 are two tables full of festive decorations and glasses.
Bag 2: The first tower is built. The bottom floor is the bathroom where Harry figures out the egg clue. It has a nice sticker for a stained glass window. The second floor contains Dumbledores office, which contains the Pensive, the Sword of Gryffindor, and stickers representing the Phoenix, and the Sorting Hat. They've achieved alot of detail here considering the size of the office.
Bag 3: We get to the Clock Tower. Firstly we build the entryway. Not much to say about it really, I like the details on the outside, and see the Tri-Wizard Cup on display is nice but otherwise the space is left pretty open.
Bags 4: This is my favorite part. The Defense Against the Darks Arts classroom, with the striking windows and magical knick knacks, looks awesome. It's also a much more complicated build than it looks.
The facade is really starting to look the part.
Bags 5: The clock is added to the top room, with the functions being cleverly hidden by the hospital curtains. The Hospital Wing (not so much a wing in this set) is unmistakable, helped by the chosen color scheme of the furnishings. It amazes me, after all these years, how LEGO still find new ways to build beds. The Clock function is finished with a simple handle to rotate the clock face. This is incredibly simple and a bit of a let down. And to finish of the bag we put on the first two roof sections.
Bags 6: Not a very exciting bag but it is no less important and satisfying to build. The roof is completed, using some nice angled plates to create the corners needed for the apex and tower. With the addition of the tower it suddenly becomes Hogwarts.
And finally the Yule Tree. An angular tree in the same vein as recent Christmas Trees (see in the Winter Village Fire Station amoung others), the designer has snow flocked it giving it a really winter-y feel, fits right in with the Yule Ball scene. I like this tree so much (definately a Good tree when compared to my Good, Bad, and Ugly article) I'm going to keep it built til Christmas and put it in my Christmas Village.
Conclusion
This set fulfilled my expectations. It was a nice build, nothing groundbreaking but some really well thought-out touches. And playability is great.
As mentioned above, the dancing section could have been designed to have a more accessible way to turn it, and a bathing suit alternative for Harry would've been awesome (so you'd have a minifig to put in the bath). Another critcism is the lack of attention the actual clock got. Sure you can rotate it but it couldn't be more of a basic function. It's the focal point of the set and it feels like an after thought. Otherwise this is a solid set.
The room choice is great. Having the Hospital Wing incorporated is exactly the kind of thing I want from these new sets, I love it when I get less 'popular' areas. And I love the Christmas Tree (sorry Yule Tree!). The minifigures all look fantastic. Dumbledore2.0 is such an improvement over the old style, and having some secondary characters like Krum and Diggory stops it from getting repetative.
I hope the last two years of Harry Potter sets aren't flukes, I want more, I want the Greenhouses, the Divination classroom (still annoyed this didn't make it into 71043), Gryffindor and Slytherin common rooms, the Room of Requirement, and maybe some more detailed buildings of hogsmeade like this old Diagon Alley set. LEGO keep 'em coming, cause I, for one, don't want these sets to end...again.
Build on,
Jared Hinton
Disclaimer: This LEGO set was kindly provided for review by The LEGO Group. Anything said in this post is the opinion of the author and not The LEGO Group.
Parts- and build photographs by Jared Hinton (© 2019 Rebrickable)