EDIT MODE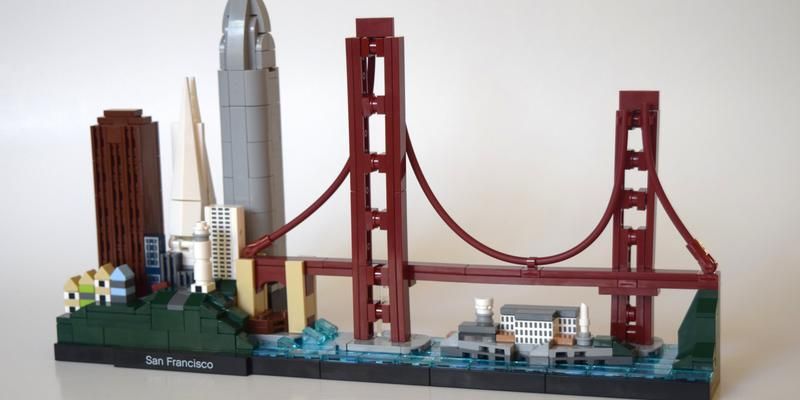 There's a few major cities in America that have a big impact on the country, or the world even. The Windy City, The Big Apple, The City of Angels, all great places rich with architecture, history, and people. But none have such an impact despite being relatively small (footprint not population) and hidden away like The City by the Bay. It's become the tentpole city for progressive ideas and artistic creativity. And has such recognisable landmarks it's hard to believe it's taken this long to create a Skyline set of it.
Contents:
Background
The City: San Francisco, or SF to locals (San Fran is the quickest way to identify yourself as a tourist) was founded in 1776 making it one of the oldest cities in America. Originally a Spanish settlement, when America expaned during the ninteenth century it became a major hub in the newly formed State of California benefiting from the Gold Rush era. Surviving several devasting earthquakes in its time, most notably in 1906 when three quaters of the city were destroyed. They have always rebuilt and done so in a way that has made them stronger and more sustainable. They emerged so well out of the 1906 earthquake that when the Great Depression hit in 1929 San Francisco not only didn't fail but they began construction on one of the most amibitious civil engineering projects in the world, The Golden Gate Bridge, the focal point of the set.
The Theme: The Arcitechture Theme began reasonably humbly in LEGO terms. Even today, new Arcitecture sets aren't given the big fanfare like most other themes. The target audience and subject matter are probably the cause for this. However it has become a staple of the LEGO line up and I eagerly await the new sets just like any other theme. Even if I don't buy them, just seeing these sets and how they have created such iconic structures is an experience. It's the closest LEGO come to creating actual art, these are display pieces in a way that no other sets are.
Beginning in 2008 with two rather uninspiring sets the theme didn't really take off until the following year. 2009 gave us some fantastic builds. I've been to Fallingwater and I can tell you this set of it not only captures it perfectly but it somehow elevates it. Some of my favorites are sets 21015-1, 21020-1, and I desperately want to go to the LEGO house so I can get my hands on this set. The Skylines sub-theme began much later in 2016 with Berlin, London, New York City, and Venice. All perfect to launch this style. Since then we have had two new cities each year, one from the US and one from the rest of the world (I guess that tells you where LEGO sell this theme the most!)
And just like every other theme, Architecture has some stinkers, but due to the type of theme it is LEGO have been able to rectify early mistakes by releasing newer versions. LEGO didn't hit on micro building as quickly as the AFOL community so they clearly had some growing pains when learning these techniques. Two most obvious offenders are The Guggenheim and The Burj Khalifa. The bad, sets 21004-1 and 21008-1 just look terrible. That Burj Khalifa is a downright rip-off, my son could've built it with no instructions. Luckily they gave us sets 21035-1 and 21031-1 so we can ignore those earlier attmepts.
The Set
Recreate the magnificence of San Francisco's architecture with this awesome 21043 LEGO® Architecture Skyline Collection model. This LEGO brick collectible features iconic San Francisco attractions and landmarks, including the city's famous "painted ladies" buildings, 555 California Street, the Transamerica Pyramid, Salesforce Tower, Coit Tower, Fort Point, Golden Gate Bridge and Alcatraz Island. A blue-tiled baseplate representing the Golden Gate strait and a San Francisco nameplate add the finishing touch to this amazing model. LEGO Architecture Skyline Collection models are perfect for display in the home or office and have been developed for all with an interest in travel, architectural culture, history and design. Each skyline building set is scaled to give an accurate representation of the comparative size of the featured structures, with realistic color depiction.
The Box


The box measures 265 x 190 x 58 mm. Inside are 4 bags numbered 1 to 3 (two numbered 3), 1 loose part, and instructions.
The Instructions
The instructions measures 210 x 165 mm. With 126 pages, 117 building steps.
The manual contains a lot of information about San Francisco and the buildings featured in the Skyline model. I do have one issue with Architecture manuals, I hate the black background. I've never been keen on it but it was worse for this set as there's a lot of Reddish Brown parts which make it very difficult to see what you need and what you're doing with them. Pages 68 to 74 use Reddish Brown parts exclusively (to build 555 California Street), some of the pages look blank at a glance. I imagine if they ever have to use Dark Brown parts they won't appear at all.
The pdf can be downloaded here.
The Parts
The set contains 565 parts and 31 spare parts, in 18 different colors, and 15 different categories, with a total of 163 unique parts/color combinations
Main colors are:
Main categories are:
As expected with an architecture set it's vastly plates and tiles.
New Parts:-
4162pr0066 - Tile 1 x 8 with San Francisco print.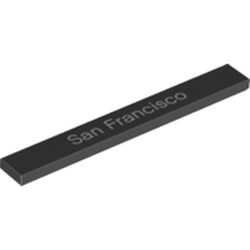 3004pr0044 - Brick 1 x 2 with 3 Rows of 8 Black Squares print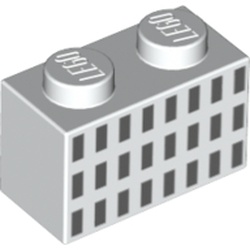 Parts in new colors: Lots of new Dark Red parts in this set.
Parts in Rare Colors: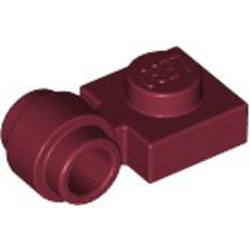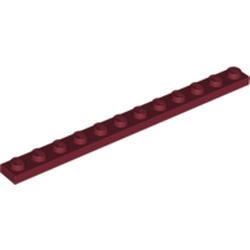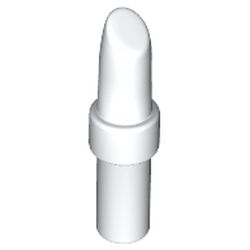 The Build
Bag 1: The foundations of the city are built from this bag. we have the base of the buildings, the waters of the Bay, the base for alcatraz, and a little pokey-out-thingy that is clearly for the bridge but isn't immediately obvious how..
Bag 2: The city rises! This bag builds a lot of real estate. 555 California Ave, Transamerica Pyramid, Salesforce Tower, and an array of unnamed buildings that could either be based on real buildings or just generic, maybe a local could tell me more in the comments. We also get what I assume are cable cars going up the hill. Nowhere does it state that is what they are but it makes sense.
Bag 3: Contains Alcatraz, Fort Point, the Painted Ladies, Coit Tower, and the Bridge. Alcatraz looks great, micro-building at its best. Fort Point is just plain stupid, two Wedge Plate 2 x 2 cut corner does not equate to a building in my book. Coit Tower and the Ladies look great but are very simply built (the Painted Ladies are are my sons favorite bit. He stages them next to a Minifig and pretends it's a giant destroying the houses).
Lastly the Bridge is built. It's definately designed with effort, time has been taken to get it to resemble the actual thing and do so using limited parts and techniques. However, holding it in your hands and studying it it doesn't really hold up. It definately has the spirit of the real bridge but it fails to accurately replicate it. Perspective is cheated and honestly, it looks a bit naff.
Conclusion
I am torn over this set. In many ways it offers a unique Skyline build experience, and it definately captures San Francisco. Lovers of 'SF' will get a lot from it, those who moved away and are looking to relive some old memories.
However, those who love Architecture sets or Skyline sets may find it too simple, and that it doesn't quite have the realistic look of other sets. At $50 it's not a cheap set either so it's hard for me to 100% recommend it. Hopefully one day LEGO gives us a larger solo Golden Gate Bridge and Alcatraz Island, I'd pay $50 for those.
Build on,
Jared Hinton
Disclaimer: This LEGO set was kindly provided for review by The LEGO Group. Anything said in this post is the opinion of the author and not The LEGO Group.
Parts- and build photographs by Jared Hinton (© 2019 Rebrickable)