EDIT MODE
What I love about LEGO, is that it has such a rich history. Every day I learn something new. One part of this history is Modulex. Modulex was created in 1963, and is one of the very few instances where the product is not compatible with the LEGO System.

In 1960, Godtfred was working a building a new home. He tried to replicate his designs in LEGO form, but because of the ratio of the bricks (5 LMU width, 6 LMU high), this was hard to do. So he came up with a brick, that has the same height and width (5mm), and Modulex was born. The studs were marked with the word 'LEGO'. Godtfred quickly realized that these bricks were perfect for architectures. Remember, this was in the early 60's. Computers were massive, expensive, and very limited in calculation power. Whenever an architect would design something, he would have to draw it by hand, or make a model of it. Those are all time consuming practices. Godtfred figured, that with Modulex, the model building could be sped up very fast, and he made Modulex a commercial product.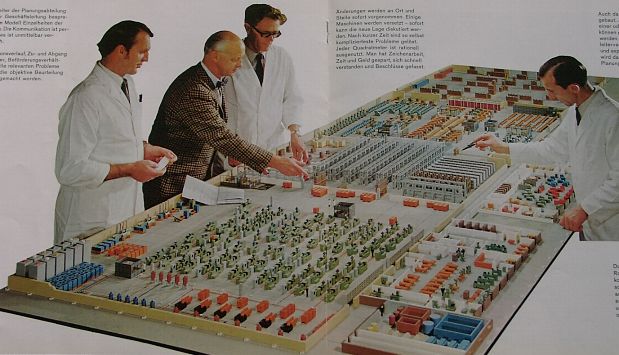 Source Miniland.nl
At first, Modulex was a subsidiary company of LEGO, called Modulex A/S. The first product were released in 1963. Parts included standard bricks, slopes, tiles, doors and windows. The sets consisted an assortment of bricks in a specific color, but were also available in bulk. Standard bricks came in 1x1, 1x2, 1x3, 1x4, 1x5, 1x10, 2x2, 2x4, 2x5, 2x8 and 2x10. Noteworthy for the tiles, is that they are the same height as bricks, just with no studs. LEGO tiles are 1/3rd the height of a LEGO brick. The name Modulex came from the scale, being 1:20. This scale made 1 Modulex brick (5mm) into 10cm. X being 10 in Roman numeral gives Module X.


Source: oldbricks.it
There were also baseplates, in sizes 50x50 and 50x100. That sounds big, but that was because they were meant to be cut to size! There were special cutters, glue (the horror!) and even foils to recolor bricks


Source: oldbricks.it
The commercial success among architects was not very great. But industrial planners found it very useful to make plan boards, and so the target audience shifted. In 1966, Modulex separated from LEGO (but was still owned by LEGO) and released the Modulex Planning System. From that moment on, the studs of the brick lost their LEGO mark and got an M for Modulex. The new system also brought printed tiles, plates and other plan board utilities.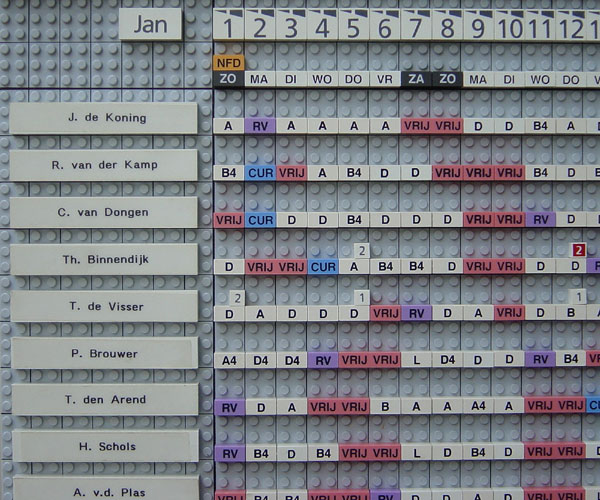 Source Miniland.nl
Years later releases Interior 10, an architectural signage system. In 1979, Exterior 500 was added. By this time, Modulex was completely separated from LEGO. In 1993, Modulex merged with ASI Sign Systems.
As mentioned, Modulex bricks don't fit on LEGO System bricks. Also, the quality of the bricks seems to be a bit less than we're used to by LEGO. And, there is also a different color pallet. Here are some of the most common.


Source: oldbricks.it
There are also a few rare colors. BrickLink has a nice overview of the colors.
I've been working on adding Modulex parts to the Rebrickable database. All standard parts are in. Only thing left is the Modulex Planning System parts and printed tiles (900+ parts!).
But if Modulex doesn't fit the LEGO System, what is it's Rebrickable value? Well, the inspiration for adding the Modulex parts database, came from an article on NewElemenatry.com (part 1 part 2). Basically, because of the unique size and color of the bricks, with a bit on ingenuity, they can be perfect addition to make a MOC extra special. In the article, multiple examples are given, like these below:


Source: newelementary.com
WE NEED YOU!
Because this is an old part of LEGO history, it's hard to find information on sets, and photos of the parts. So we call upon you to help out! If you have any Modulex parts, please submit photos! We can only accept photos that you made yourself, we can't copy any from the internet. Here is a guide on making quality pictures. If you know of any form of sets that came out, let us know!
All Modulex parts on Rebrickable can be found here. Because there are no sets known (yet), I've added all parts to a dummy set, to prevent color- and part errors in inventories and part lists.
So, let's see what creativity this new addition to the Rebrickable database can spark. I'm looking forward to your submissions.
SOURCES:
www.Miniland.nl
www.OldBricks.it
www.NewElementary.com