EDIT MODE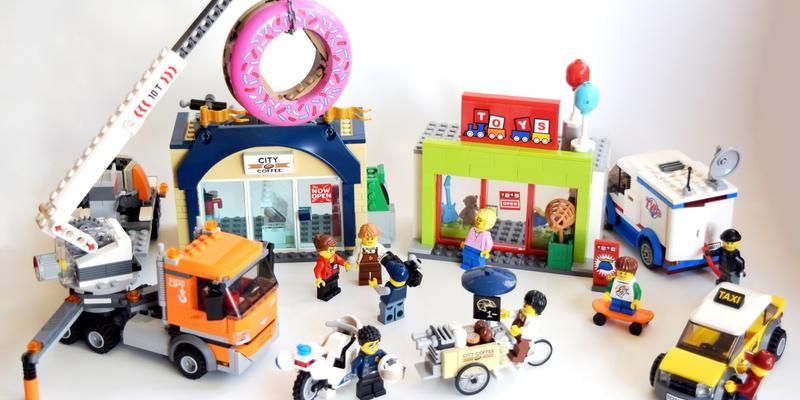 I'm a big City fan. from their versatile sets and reasonable prices I think it's up there with the best themes. And I think it's a largely ignored theme. Now I do have complaints about LEGO's current trend of stretching the theme a bit (a lot!), but at it's core, the Police, Fire, Hospital, Bank, Shop sets are great builds, great fun, and full of Minifigures, if they're your thing. As soon as I saw the Donut on the roof of this LEGO building I knew it had to be a set I reviewed. Luckily I have the opportunity, I hope it's as awesome as it looks.
Contents:
Background
The City theme (or precursor themes like Town) have been around almost as long as LEGO itself. With City-scape building being a core hobby for adlut LEGO enthusiasts and the easily recognisable scenes being accessible for children it's no suprise a variation on the City theme has survived for so long. With recent offerings like 60216-1 Downtown Fire Brigade, 60200-1 Capital City, and 60204-1 City Hospital the theme is still looking fresh. And the with new People Packs and City extention sets under the theme Xtra, your City can have more depth than ever before.
Another recent trand which I love is features made from large brick-built food items. Set 60214-1 has an awesome burger, 31050-1 a neat sandwhich, and I fell in love with this Friends set. I consider the Donut in this set to be the pinacle of this trend.
The Set
Give young urban explorers a treat with an action-filled set inspired by the LEGO® City animated TV series. This cool 60233 Donut Shop Opening toy town playset features a truck and crane trailer with an extending boom arm, platform and extendable stabilizing legs, news van with opening roof and satellite dish, taxi, police motorbike and a new-for-June-2019 coffee cargo bike. This fun set also includes a toy shop and a donut shop with ATM and release trigger to launch the giant donut from the top of the building. Give any LEGO builder an amazing building experience with Instructions PLUS, available in the LEGO Life app for smartphones and tablets. The easy-to-use, intuitive building instructions let them zoom, rotate and visualize their creation using the special ghost mode as they go. Instructions PLUS is also great for younger builders, guiding them through the building process for a greater sense of independence and achievement. This cool construction playset toy includes 10 minifigures.
The Box


The box measures 475 x 385 x 70 mm. Inside are 9 bags, 8 numbered 1 to 8 and 1 unnumbered bag, and instructions and sticker sheet.
The Instructions
The instructions measures 195 x 125 mm. The page numbers and building steps for each book are below:
30 Pages, 22 Steps
52 Pages, 53 Steps
36 Pages, 30 Steps
70 Pages, 49 Steps
44 Pages, 49 Steps
84 Pages, 24 Steps
The pdf can be downloaded here.
The Parts
The set contains 790 parts and 38 spare parts, in 30 different colors, and 40 different categories, with a total of 370 unique parts/color combinations
Interestingly, the main colors and categories suggest a flat dull set but this is far from the truth.
Main colors are:
Main categories are:
New Parts:-
3626cpr2970 - Minifig Head, Reflective Sunglasses, Smile with Teeth / White Pupils Print.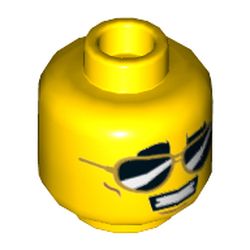 973pr4816c01 - Minifig Torso Police Uniform, Dark Bluish Gray Straps/Harness, Badges, Belt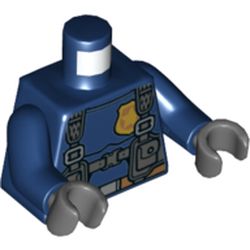 24599pr0002 - Brick Round Corner 5 x 5 x 1 with Bottom Cut Outs [No Studs] [1/4 Arch] with Doughnut Sprinkles print.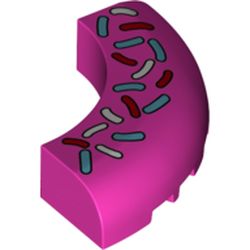 973pr4898c01 - Minifig Torso Female Red Jacket, Name/ID Badge, Black Shirt.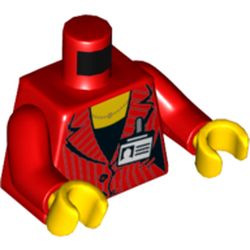 973pr4903c01 - Minifig Torso White T-Shirt with Classic Space Minifgures print (Strictly speaking this is not a new part. It has appeared in 2 sets (first in 2009) But this is the first non-Educational appearance of this Torso so I included it as it is the first appearance in a widely available set).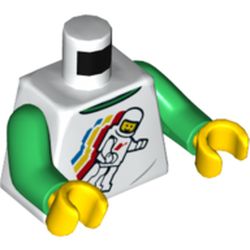 50015 - Minifig Bike (New for 2019 sets)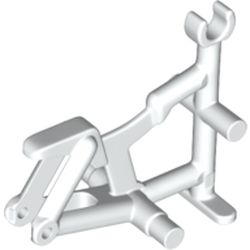 54568 - Propeller with Pin (New for 2019 sets)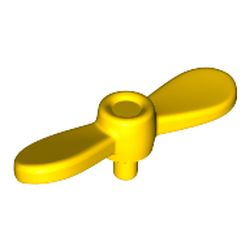 Parts in new colors: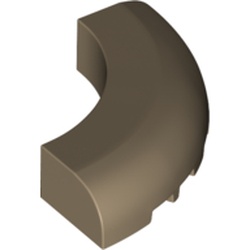 This set comes with 10 minifigs.
The Build
Bag 1: We open on a sleepy town, eagerly awaiting the grand opening of the newest local donut shop. But before long this peaceful oasis is disturbed by a dastardly criminal, best way to beat a criminal? Build a cop on a motorbike! Its a simple build in bag 1. The cop bike isn't anyhting groundbreaking but serves its purpose. Then we build the taxicab. It's incredibly basic and offers neither a fun build nor play factor. I also don't think the finished car looks much like a cab. It's a disappointing start to this set.
Bag 2: Another simple build here. The News crew van offers little to be in awe of but is a solid build, looks the part and I love the camera man, great use of the Space Gun.
Bag 3: We finally get to a building. The toy shop, with it's simple offerings, and modern style balloons, adds a nice little building to my City. It's bright and have some nice stickers (can you believe I complimented a sticker?!) Sure, it may have been nice to have some micro builds for toys as seen in sets like the Winter Toy Shop but the toy shop isn't really the focus of this set.
Bags 4 & 5: The coffee cart is built from bag 4 (this is where that new bike part is used). I like this a lot. It is great filler for a city, filling those awkward spaces that appear even with the best designed cities. The coffee cart ties in with the Donut Shop using the same branding. The shop begins being built in bag 4 but the bulk of it is done using bag 5. Some nice touches with the shop, the ATM on the side is effective (and give that pesky criminal something to steal!) and again, there's some great stickers here. Finished with an unusual roof technique, part 24118, previosuly used exclusively as car panels.
Bag 4:
Bag 5:
Bags 6: The semi (big rig, lorry, truck) cab is all that is made from this bag. It's a great cab though. The finished model looks very realistic
Bags 7 & 8: Now we build the trailer and crane parts of the semi, and last but not least we finally get our hands on the donut.
Bag 7: The trailer has stabilizing arms (that it actually needs) and a weird alien ship looking thing that rotates. I didn't figure out what this was for until I saw my 4 year old son playing with it. This is to hold the donut during transit, why it rotates is still a mystery.
Bag 8: The crane lifts and extends offering great playability. The donut is a bit of an anti-climax. It builds easily (to be expected) but unfortunately I found that it also breaks easily. The action switch is effective and easily sends the donut rolling, and once on the roof of the shop the donut does look the part.
Conclusion
There's a lot to love about this set. The semi and trailer are great (really great), the coffee cart is a fun little build and great to play with, and the shop fronts fit perfectly into a cityscape (even if you will have to build backs). However, that first bag with the taxi leaves a bad taste in your mouth early in the build, such a basic design. And I find there's too many minifigs. I'd rather have had 1 or 2 less Minifigs and got a better taxicab.
And lastly the donut. Let's just say it looks better in the pictures. To leave visable studs on just one internal side looks bad, and it breaks apart very easy which is annoying considering the 'action' of the set is to make it go rolling.
I do recommend this set, because the pros out-weight the cons, but I challenge you to design and submit a better donut so I can be truly happy.
Build on,
Jared Hinton
Disclaimer: This LEGO set was kindly provided for review by The LEGO Group. Anything said in this post is the opinion of the author and not The LEGO Group.
Parts- and build photographs by Jared Hinton (© 2019 Rebrickable)