EDIT MODE
Ok, I need to open with a disclaimer, my opinion on this set may be slightly compromised. When Toy Story was released in 1995 I was exactly the target audience. So much so, when people ask me what my favorite movie is I tell them Toy Story. Now it's probably not my favorite all the time but people don't like you giving them a full list of favorite movies for each mood. I used to like to pretend that my toys came to life when I was sleeping, and out of fear of upsetting one of them I made the extra effort to say goodnight to them all. Does this Toy Story set bring back all those feelings I had as a kid? Can't wait to find out.
Contents:
Background
In early 2010 we got our first LEGO Toy Story sets, covering the first two movies and the TV show Buzz Lightyear of Star Command. Then, to coincide with the release of the next movie, we got sets based on Toy Story 3 that Spring. They were everything I wanted from LEGO Toy Story and I own several of these sets, 7594-1 Woody's Roundup! and 7592-1 Construct-a-Buzz are a couple of my favorites I have. But theres one I couldn't quite afford and is now one of my holy grail sets, 7597-1 Western Train Chase, which will run me the best part $150 if I ever pull the trigger.
With the release of Toy Story 4 LEGO revived the theme. All part of LEGO's new 4+ range (which replaced the Juniors theme), needless to say some fans weren't happy. The 4+ designation didn't quite put me off though (probably that bias coming back).
The Set
Share the excitement and joy of a carnival with your child, with Disney•Pixar's Toy Story 10770 Buzz & Woody's Carnival Mania LEGO® 4+ set! This action-packed play set is specially designed to be fun and easy for preschoolers and smaller children, featuring a colorful carnival shooting game with a large sign and laser cannon, plus a special Starter Brick baseplate that gives first-time builders the experience and pride of constructing buildings, vehicles and more on their own. This fun preschool toy building set also includes a spinning Terrorantulus ride with adjustable arms, 2 bumper cars with Starter Brick chassis and an ice cream shop with register, table and benches and a sign. The included simple guide to build and play will also help your young carnival visitor understand the purpose of the building steps and grow their imagination and confidence for the perfect start to easy LEGO brick building in a familiar Toy Story setting. Includes Woody, Buzz Lightyear and Bo Peep minifigures, plus Ducky and Bunny LEGO figures.
The Box
The box measures 380 x 260 x 51 mm. Inside are 4 numbered bags, and 3 loose parts, and instructions.
The Instructions
The instructions measures 203 x 180 mm. It has 51 pages and 20 building steps.
The pdf can be downloaded here.
The Parts
The set contains 105 parts and 3 spare parts, in 26 different colors, and 26 different categories, with a total of 229 unique parts/color combinations
Main colors are:
Main categories are:
The high number of minifig parts is probably due to the more simple parts included in a 4+ set. Where a set would use a dozen parts, 4+ uses one.
I'm going to ignore all the printed and minifigure parts that are exclusive to this set or theme with a couple of exceptions. Here's a list of new parts, in this set for the first time.
51283 - Animal Chicken with Dark Purple Eyes, Large Head, Large Feet (The only set that features Ducky)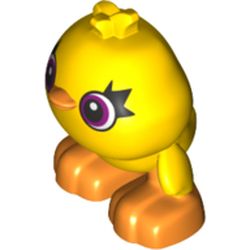 50232 - Minifig Mask Bunny with Lavender Eyes, Lime Nose and Ears (The only set that features Bunny)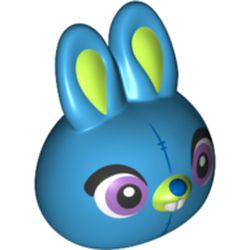 973pr4704c01 - Minifig Torso Lime Shape (Underside Animal)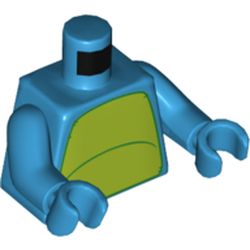 3626cpr2890 - Minifig Head Woody, Nervous Smile, Teeth, Reddish Brown Eyebrows (A unique Woody head, not found anywhere else)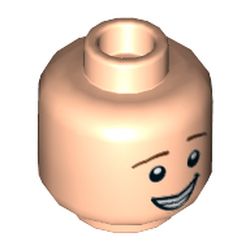 49492 - Equipment Shepherd's Crook / Staff (New with the Toy Story 4 sets, appears in two)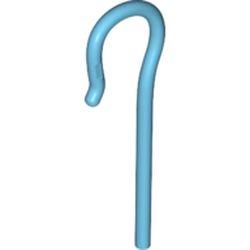 49308 - Brick Dome 3 x 3 with Center Stud (New with Summer 2019 wave of sets. Appears in Bright Pink here, and Light Bluish Gray in 21045-1 Trafalgar Square.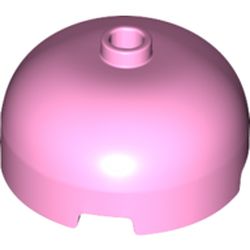 49309 - Cone 2 x 2 x 2 Inverted (Has appeared printed in earlier The Lego Movie 2 sets but is here plain for the first time. Which is actually quite odd because here it's an ice cream cone and the printed versions are also ice cream cones. Not sure why Lego didn't give us the printed version here).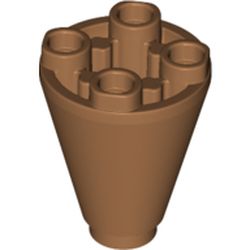 Parts in new colors:
Parts in rare colors:
The Spares: The smallest amount I've ever got in a set. I guess they don't put many small parts in the 4+ range.
This set comes with 5 minifigs, Woody, Buzz Lightyear, Bo Peep, Bunny, and Ducky.
The Build
Bag 1: Here we build the shooting game, cannon included, and Buzz Lightyear himself. The majority of the 4+ parts in the set are used in this step. From a large printed special tile, to the baseplate, to the wall. It took less than two minutes for my 4 year old to build it all. The printed parts are all great. Bright and fits the carnival aethestic perfectly. Buzz Lightyear on the otherhand is pretty poorly printed. Especially the head which already looks like a worn 20 year old print. Play factor is strong here. And my children have already lost one of the 'lazers' (1 x 1 round brick) from over vigorous shooting.
Bag 2: Now we get the short legged Woody (just looks better with the old long legs) and two Dodgems (aka Bumper Cars). It's a small bag, but the cars are fun and again fit into a carnival scene well.
Bag 3: Bo Peep makes her LEGO debut here. This could be my favorite minifig in the set. She looks great, and looks lifted straight out of the movie with her crook and cape. The build of the set, the Ice Cream Parlour, is little more than to bump up the piece count. It's off color compared to the rest of the set making it stick out a little, but it's saved by the large ice cream cone on top.
Bag 4: Saving the best for last. The spinning space alien ride is easily the most fun part to build and play with. And the addition of Bunny and Ducky (not attached to each other, not even an easy way to attach them really, which is a shame), this bag could be reason enough to buy this set.
Conclusion
In conclusion...LOVE IT, LOVE IT, LOVE IT, LOVE IT! This set is so much fun. My kids had an absolute blast building it, although it it was very simple even for my 4 year old son. And they have had even more fun playing with it. The spinning ride seems to have endless potentional, from being a monster, to space ship, to a secret base (rarely a carnival ride, go figure!). I've banned the shooting game as it was creating arguements about who's shot it was next. And the 'racing cars' are always easy fodder for kids. With the ice cream parlor being the component that is least played with.
My biggest complaints are that it doesn't really resemble any scene in the movie. Infact the whole theme seemed to suffer from this this time, just as the Avengers: Endgame sets were not based upon scenes from that movie. Perhaps movie studios are sharing less details with LEGO causing them to make more general sets. And my second issue, the minifigures. They are good enough for the most part but I prefer the molded heads of the originals (and of course the long Woody legs) but I get why they've done it this way this time.
It wasn't as great as the 2010 sets, but that's mainly from the build point of view. Ultimately the 4+ parts take away some of the design ingenuity AFOL's now expect, dare I say crave, from LEGO.
Tonight I'm gonna say goodnight to my Benny Space Squad, just incase!
Build on,
Jared Hinton
Disclaimer: This LEGO set was kindly provided for review by The LEGO Group. Anything said in this post is the opinion of the author and not The LEGO Group.
Parts- and build photographs by Jared Hinton (© 2019 Rebrickable)